More and more reports of the wasteful nature of the fashion industry are rising and people are taking notice. Governments are calling for accountability from the top brands as the facts behind the immense waste made by modern fashion producers are coming to light. There are also calls to focus on more efficient recycling methods.
For example:
Apparel and footwear industries account for 8 per cent of global greenhouse emissions. That nearly equals the TOTAL level of emissions from the ENTIRE European Union.
It takes up to 2,700 litres of water in the process of making ONE t-shirt. That is three years worth of drinking water for one person.
North Americans are shipping 10.5 million tons of clothing into dumps and landfills each year. It is estimated 95 per cent of that material is recyclable.
The typical two fashion cycles a year has skyrocketed up to 50 cycles in a year.
In 2014, consumers bought 60 per cent more clothing on average compared to 2000, but threw new purchase twice as fast.
These facts show that the fashion industry, regulators, and consumers alike are going to adapt quickly and transform the apparel industry into something much more sustainable if we are to reach the UN's urgent climate goals. Thankfully, initiatives from industry leaders such as Give A Sh!rt Canada and grassroots organizations alike have begun the conversation and promoted sustainable accountability for every stage of a shirt's journey from the cotton producers to the end consumer. Fighting the "crisis of stuff" has never been more important.
Bank & Vogue has been a long supporter and promoter of the circular economy. Our company's purpose is to find and develop innovative solutions for the "crisis of stuff." We aim to provide new life for our the mixed rags and other donated clothing items. We continuously look for new partners and innovative ways to advance in promoting responsible practice and sustainability in the journey to close the fashion loop. Whether it is through our vintage clothing brand Beyond Retro, which takes clothes destined for landfills and up-cycles them into desirable items for resale. So far we have managed to save 608 tonnes of CO2e and 300,000 m3 of water.
Finding new ways to use old clothing and mixed rags is an essential practice that we work to encourage world wide as the efficiency of recycling apparel is simply not at the level it needs to be. The Textile Recycling Association described it as: "the Achilles Heel of our industry and is perhaps the biggest stumbling block that the fashion industry will need to overcome," stating that the current methods actually damage the material, allowing it to be recycled only once.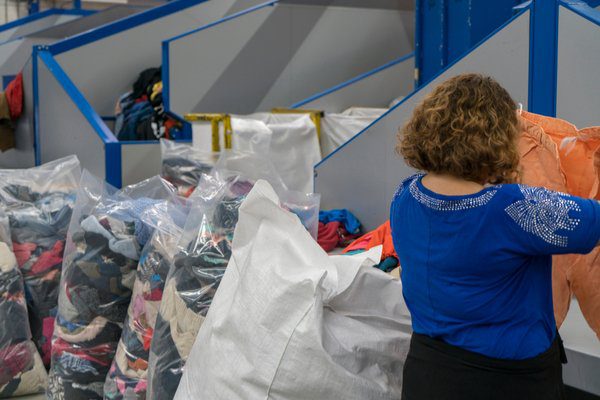 Our wealth of experience working with buyers and sellers all over the world puts us in a position to offer expert advice and friendly service for business owners new and old who want to work towards improving sustainability in the apparel industry and more. We have experience working with bric-a-brac, toys, shoes, purses, housewares, and more! To learn more about our processes and our general approach to the logistics of sustainable clothing and the circular economy, please contact our team at 1-866-613-0719 (North America) or 1-613-747-8465 (International).