While many credential clothing owners certainly know the contours of the new journey they intend to take their item on, they may not necessarily know of the journey it took to get their item in their hands.
Credential clothing, also known as "original clothing," refers to items or materials that are considered unwanted by their initial users. These items may have spent several years or just a few months as part of an initial owner's collection and have now been gathered from closets and bins and bagged up for a new home. Once these items are properly packaged, owners typically take them to drop-off clothing bins (which are placed throughout different communities), clothing depots, charity organizations and/or recycling companies. These items are strategically placed in high traffic areas and even in affluent communities. And in these boxes, those searching for credential clothing can find everything from jewelry, shoes, hats, toys and stuffed animals, purses, backpacks, wallets, belts, scarves, miscellaneous fashion accessories, and household linens.
What makes these items "credential" in nature is, on the one hand, is the packaging. Credential clothing tend to be both unsorted, untouched, in the very same condition as when they were first deposited by the person who first donated the items, still in their original bags when first dropped off, packaged in bales, not graded and later sold to distributors. The goal of credential clothing, particularly where packaging is concerned, is to preserve it by leaving it in the original plastic it was packaged in. This strategy ensures that the credential clothing item is not compromised by being mixed up with trash and wet materials.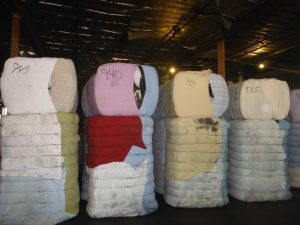 Unlike other recycled textile items, collectors tend to prefer credential clothing. The reason for this is because collectors argue that credential items are higher quality as a result of being protected inside bags which have not been opened. There is also a financial and profit consideration – that being that credential clothing is also preferred because it typically receives a higher price at market.
At Bank & Vogue, we do our part to distribute credential clothing by purchasing items from charities and for-profit collectors. These individuals and organizations tend to collect their items via a number of routes that include: home pick-up routes, bins, in-store drop-offs and donation stations. Bank & Vogue then facilitates the purchase of these wholesale credential items across North American markets by sending our trucks to pick up loose or baled materials for homeowners. At Bank & Vogue the typical weight for lose credential clothing is a minimum of 25,000 – 30,000 pounds. In the case of baled clothing, the amount is typically 40,000 pounds.
Interested in the services we provide at Bank & Vogue regarding wholesale credential clothing? Kindly contact our team for additional details regarding shipping and packaging. North American clients can call 1-866-613-0719 for our services, while international clients can call +1 613-747-8465.