Nearly a year ago, the CBC reported that one of the recycling items that have largely been off the radar for most consumers is textiles. Unlike items such as newspapers, plastic containers, glass, plastic, and cardboard, textiles have only recently become items that consumers immediately consider recyclable materials. A 2016 Ontario study concluded that 85 per cent of discarded textiles end up in a landfill site — or better put, only 15 per cent are recycled or reused. Experts tell us that one of the easiest ways to increase the percentage of recycled textiles among items that have been discarded is through the process of credential clothing.
"Credential clothing," otherwise known as "original clothing," are textiles (and other various materials such as shoes) that are initially collected in drop and donation boxes which have been strategically placed in high-traffic, and even affluent communities where original owners determine that they no longer need their materials. Experts maintain that, for materials to qualify as "credential" they must be unsorted, untouched, not graded in terms of their quality, and free of contamination from other trash and wet items. They must also be in the exact condition they were first found in — meaning in their original packaging. After being collected by organizations such as Bank & Vogue, "credential clothing" items are processed and recycled as top-grade credential materials.
At Bank & Vogue, we source, process and send out for domestic and international export or redistribution hundreds of thousands of pounds of high-grade credential clothing annually. In terms of weight, it is usually the case that at Bank & Vogue loose credential clothing has a minimum weight of 25,000 – 30,000 pounds, while baled credential clothing can weigh as little as 40,000 pounds.
Unlike other recycled textiles, credential clothing is much more preferred among collectors. Not only is it acknowledge as being higher quality, the fact that it is protected by being inside bags which have not been opened results in a higher grade of recycled textile. When items have been removed from their bags, distributors sometimes lose interest because they no longer have the opportunity to select items on their own and determine value. From a financial and profit standpoint, credential clothing is also preferred because it typically receives a higher price at market.
At Bank & Vogue, we are especially interested in collecting and selling credential clothing — particularly from charities and for-profit collectors across North America. Our process typically consists of having our sellers pick up materials via home pick-up routes and collecting from public bins located in neighbourhood drop-off locations, in-store drop-offs and donation stations. After Bank & Vogue staff collect materials, whether loose or baled credential clothing, they then return them to our facilities where the sorting begins. While credential clothing is typically unsorted, our staff members are cognizant of the need to nevertheless search for and eliminate any hard items or lotions that can damage the textile items.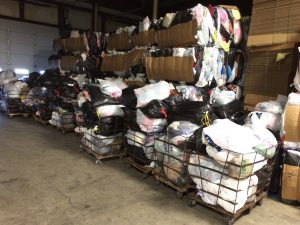 This deep familiarity with the credential clothing market and the need to increase its use as recycled materials means that Bank & Vogue has amassed great expertise in the required logistics needed to move these goods across North American and global markets. For those interested in learning more about credential clothing and how we at Bank & Vogue can help you consume credential clothing and save textiles via recycling, they can contact one of our friendly staff members for assistance. Our team is always ready and willing to discuss pricing and logistics, and especially make it their responsibility to arrange the purchase and pickup of any materials you will be parting with.