It is true that the older the shoe, the more likely there may be damages or fragile fabric that is ready to split and tear — and therefore in need of inspection, repair and correction. However, like most vintage fashions, "worn" doesn't mean "worn out." This is why its always a good idea to check your vintage pair of shoes for any potential problems such as aging rubber, glue and leather, as well as any other problems with the cloth or leather material.
When shopping for vintage shoes, its very important to know how to best evaluate the quality of vintage shoes so that you know which to acquire as part of your collection — and which to reconsider or leave behind. Generally, many experts suggest a few quick tips when on your vintage shoe search in order to determine whether to invest your hard earned dollars into a new piece to your vintage collection. These tips include: looking for shoes marked as genuine or full-grain patent leather or reptile skins, heels that are made of real wood or leather stacked heels, and shoes with extensive sizing information which indicates custom quality.But what are other important details to consider when purchasing your very own vintage pair of shoes?
Inspecting Vintage Shoes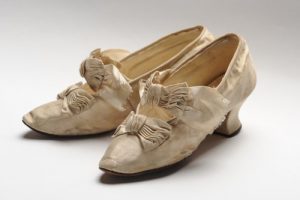 The first rule is to inspect both shoes carefully. We suggest using your fingers and eyes to look over the shoes and feel if there are any weaknesses in the fabric. At times, where you can typically find damage if there is any is fraying along the bottom edge of the vintage fabric. This doesn't render the shoe useless — rather, buyers can halt anymore damage with Fray-Check. The only problem with this solution is that it can discolour vintage fabrics, so be sure to test the product out first. And following the use of Fray-Check, you will need to be more gentle with these shoes because they will no longer be suitable for everyday and excessive outside wear.
For materials other than cloth such as leather, suede and exotics like alligator snake, these materials age and as a result become dry and brittle. This means that these materials are more likely to tear. In order to determine if that is the case, test the shoe gently by lightly but firmly bending the upper portion of the show and listening for cracking. You may also want to look and touch for the signs of cracks too. If the shoe's material is not supple then there are also solutions to revive leather such as lanolin dip. However, this is a process that one might want to entrust to a professional such as a cobbler, especially if the leather seems too weak. Alternatively an inside patch is also always an option. Experts also warn vintage shoe collectors to be wary of suede which that 'dusts' — this outcome is generally an indication of poor quality. As a result, it is important to closely inspect shoe seams and determine if they need to be repaired. Like leather, suede shoes with fraying or tears can be repaired for as little as $25. However, a tear off the seam may be more problematic to fix.
Dying Vintage Materials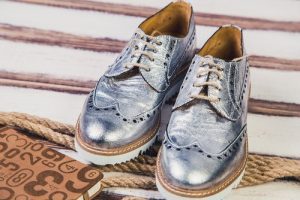 If you are interested in bringing new life to vintage shoes by adding colour, like any cloth, shoes can be dyed. The pricing for shoe dying begins at $50 for per vintage pair. The process is worth it as the new colour hides spots and stains, brings new life and a new look to the pair, and makes the vintage shoes wearable once again. Dye can also fix leather pairs that have scratches or stains. However, unlike cloth shoes, before doing this to your leather pieces, be sure to test the dye on a small inconspicuous area first. The economic benefits of dying leather is that they are much cheaper than cloth shoes, and can be restored for as little as $30.
Damaged Soles and Heels
And what about really run down or cracked soles? If repair is needed by having the entire shoe resoled, this can cost a new owner anywhere around $30-80.  Vintage sellers and buyers generally do not recommending spending money on this repair unless the pair is special and you really want to stretch out its wear. Another alternative may be to visit your local cobbler to do a "fill-in" or half soles for around $20-25. This is a much more affordable option.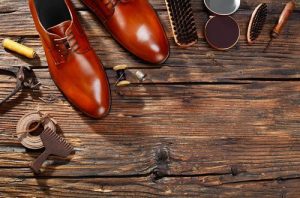 Hell taps, on the other hand, are easy to repair if they are missing and/or damaged — not to mention relatively inexpensive. If you visit your local cobbler, you will note that it costs about $4 or $5 per shoe for this service. Experts agree that this repair is well worth it when considering the possibility that any further wear can result in damage. This damage may later require that a cobbler build up the heel to make it level — this may cost the owner $20 or more. In worse cases, heels that are worn unevenly, rounded or otherwise appearing damaged may also need to be rebuilt and re-heeled. This can be very costly, and at the point it may not be worth keeping or repairing the shoe or pair.
Fixing Vintage Shoe Embellishments
There are also plenty of vintage pairs that have lovely buckles, eyelets, beading and other embellishments adorned that may also need some repair. Given that these embellishments need to look identical, it is often the case that both shoes will need to be repaired at the same time in order to match. The same will be true of shoe laces and buttons — both of which are relatively cheap to repair and are therefore a cost-effective measure intended to upgrade that perfectly wonderful pair of vintage shoes.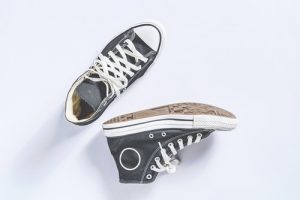 Bank & Vogue's Role in Bulk Used Shoe Buying and Selling
Bank & Vogue is a leading buyer and seller of bulk used and vintage shoes, and in general in wholesale second-hand clothing in many varieties, from credential clothing to vintage and even retro. We also have a sister company, Beyond Retro, a vintage retailer and wholesaler in the UK. We encourage you to get in touch with us if you have bulk used, second-hand or vintage clothing that you are looking to sell.