"One man's trash is another man's treasure." Not just country music lyrics, these words tell us how people can find new value in something that might have otherwise been considered useless. While a pair of torn shoes or a used belt once seemed destined for the garbage bin, today there are a host of recycling organizations across the world that have the resources and logistics to reduce waste and transform old, unwanted and seemingly worthless accessories into consumable pieces. Bank & Vogue is one such organization. We're always on the lookout for used purses, shoes and belts, so read on to discover the benefits of selling these items in bulk.
Healthy Global Demand for Used Clothing, Purses, Shoes and Belts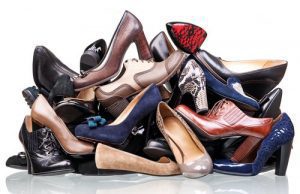 According to the Beebe School, "there's a healthy demand globally for used clothing" and accessories in the form of shoes, purses, household linens and stuffed animals. While consumers are on the look-out for used goods, it is also true that the desire among consumers to pay full-price for high grade materials has dipped. In May 2017 Fortune reported that in the case of handbags, with the $9.3 billion market growing a mere 2% last year, the boom was bound to bust.
In an attempt to outbid one another, companies such as Michael Kors, Coach, and Kate Spade continued opening stores, expanding their lower-priced assortments, and flooding outlet stores with their products. Customers as a result began to get accustomed to discounting, which in turn slammed company profit margins and cheapened the luxury of these brands. Michael Kors CEO John Idol recently told the press that it's not that shoppers don't want any more bags. Rather, items such as luxury purses are still heavily discounted and shoppers have now been trained to look for bargains. Enter our company Bank & Vogue, where we combine genuine intention to make a positive impact on the environment with logistics experience in working with buyers and sellers alike.
What Bank & Vogue Does Best
At Bank & Vogue our work of facilitating the sale of used goods is inspired by our passion and beliefs, creating opportunities for our sellers and customers, and developing innovative and relevant solutions for the "Crisis of Stuff" — namely the problem of dealing with overwhelming amount of "stuff" that we consume in our societies. Steven Bethell and Helene Carter-Bethell, the creators of Bank & Vogue, began building this great family-based business in the 1990s in the basement of their home to help provide a service to the Salvation Army. The outcome of this desire is our position as a unique player in the second-hand goods market that combines creative knowledge, experience and solutions in order to deal in wholesale, retail, design and manufacturing materials. Our company doesn't just buy and sell, but we intend to play a meaningful role in defining, contributing to and building a closed loop economy. We also want to:
Work with our customers in domestic and international markets to find great quality used product and store returns
Partner with private collectors to minimize the environmental impact of used clothing
Work in innovative ways with charity organizations in order that they might raise revenue and fund necessary and relevant community programs.
At Bank & Vogue we buy and sell a variety of used and wholesale purses and belts that are in good condition. These high-demand products include handbags, purses, backpacks, and belts that come in as donation items to secondhand stores and charities. Though we remove damaged items and large luggage items from our product selection, by buying and selling used purses and belts, we offer our clients bulk used goods at highly competitive pricing. As in the case of the footwear that we buy and sell, at Bank & Vogue we package purses and belts for sale in gaylords or capsacks. And while it is possible to secure full loads of purses and belts, we generally prefer to include these products as part of larger combination loads alongside other used products including mixed rags and shoes. In some cases, our sellers also produce bales of purses and belts — a process that is much more common for export.
Specifics to Maximize Value
In order to package these materials, we aim to reach a specific target weight. In the case of a full load of purses and belts, the target minimum weight is 25,000 lbs, and a much smaller increment when those same materials are packaged in gaylords. Buying and selling in bulk, whether in a full trailer or container, requires a shipment that contains a minimum weight requirement. In the case of loose clothing, the amount is 30,000 pounds for loose clothing, whereas for other materials such as shoes, purses and belts, the requirement is 12,000 pounds. We also buy and sell credential original donation shoes and A-grade second-hand salvage and used men's, women's, kids' and sports shoes. When determining which shoes to buy and sell, Bank and Vogue does not include damaged footwear, winter and rubber boots, slippers, flip flops, or ice and roller skates. In the case of women's shoes, we do not include heels higher than two inches for resale.
We work directly with North American wholesale sellers to sell full and partial loads of paired and banded shoes. At Bank & Vogue we prefer to package single shoes in capsacks or shoe bags as they support heavier loaded weights and are in higher demand. This sort of packaging can result in container loads that weigh approximately 30,000 pounds and are exclusively for the export market. Paired footwear on the other hand is packaged in gaylords for domestic transport. These materials typically have a minimum target weight of 17,000 pounds. In either case, even if materials are packaged as partial loads, they can be placed as part of combination loads. These credential, second-hand and salvage shoes provide sellers with the opportunity to lower waste costs and increase their revenue streams. And for our global customers, the purchase of single shoe products can also provide additional opportunities in their local markets.
As part of our commitment to our wide spectrum of customers, and our intention to ensure customer satisfaction, we at Bank & Vogue work to provide our existing and new customers and sellers with a complete package of services as well as materials. Over the past 20 years we have built a well-equipped team who work to manage transportation for multiple loads on a daily basis. Our team provides everything from initial arrangements to the pick-up and delivery of your product in one seamless service. To facilitate your shipments, we have assembled a set of wonderfully experienced logistics coordinators who are committed to helping our customers move their loads and set up all trucking and container services. We also have a strong network of trusted trucking and freight contacts with whom we work in partnership to manage the transportation process.
Together we balance costs, ensure convenience for our customers, process materials efficiently, and provide on-time pick-up and delivery. Alternatively, we can work with a trucking or freight forwarding company of your choosing in order to arrange transportation if that is your preferred option. As part of our complete package of services, our team prepares border crossing paperwork, bills of lading, commercial invoices, and export declarations forms. In doing so, our team ensures and maintains accuracy and timely submission to the border, customs broker, or shipping line as required. And in markets where fumigation is required, our team at Bank & Vogue is also happy to arrange for this service to be completed during the loading process. By working closely with our sales and purchasing coordinators, we at Bank & Vogue ensure that at every juncture of the process we are communicating properly and effectively with our customers, confirming all pick-up dates and times, and ensuring that all the necessary and mandatory paperwork has been made available when needed and has been completed in its entirety.
Working Together: How Bank & Vogue Can Help You
By buying and salvaging used materials such as shoes, purses and belts we have been able to positively impact the environment, address the concern of declining global resources, and find these products new homes (not landfill!). In 2016 we moved over 90 million pounds of used goods around the world. Through our vintage and retro clothing company Beyond Retro (www.beyondretro.com), we introduced lovers of vintage to hand-picked products from around the world, bringing new life to old items of clothing and accessories. We've successfully diverted 600,000 garments from landfill into reclaimed materials.
In order to begin buying or selling any of these used, salvaged and wholesale materials, as well as to discuss the logistics of this process, please contact our team at Bank & Vogue in order to provide you with further assistance, support and help managing your transportation and logistics needs.