What does it mean to buy or collect credential used clothing? Many who dabble in the used clothing market think that recycled materials are considered credential grade. This belief, however, does not properly capture what credential clothing, or what is also called "original clothing," consists of. In essence, the term "credential clothing" refers to materials that are unwanted materials that users first collect in their closets and bag up, and then later intend to donate by dropping them off into drop-off clothing bins (placed throughout different communities), clothing depots, charity organizations and recycling companies. Apparel Search claims that the goal of credential clothing is to preserve it by leaving it in the original plastic it was packaged in and that it is not compromised by being mixed up with trash and wet materials.
Sorted and Unsorted Used Clothing in Bales
These materials tend to be both unsorted, packaged in bales, not graded and later sold to distributors. The key qualities that render clothing credential are that they are unsorted, untouched, not graded, in the very same condition as when they were first deposited by the person who first donated the items, and or they are still in their original bags when first dropped off. Once materials have been bagged up and deposited into a clothing recycling bin, they have officially begun its journey as credential used clothing. Aside from clothing, within many of these bags, resellers will also often find highly sought-after vintage items, jewelry, shoes, hats, toys and stuffed animals, purses, backpacks, wallets, belts, scarves, miscellaneous fashion accessories, and household linens.
At Bank & Vogue we tend to buy credential clothing from charities and for-profit collectors who tend to collect their items via a number of routes that include: home pick-up routes, bins, in-store drop-offs and donation stations. Our company then facilitates the purchase of these wholesale credential items across North American markets by sending our trucks to pick up loose or baled materials for homeowners. Those interested in turning over their materials to Bank & Vogue can begin by contacting our sales staff to learn of our pricing options and determine the logistics of purchase and pickup. As a company that specializes in both the buying and selling of these materials, we can facilitate the movement of thousands of pounds of high grade materials annually through domestic export and redistribution. In the case of credential used clothing, Bank & Vogue usually arranges for a 53-foot trailer load in the case of domestic sales, and 40-foot high-cube ocean containers in instances of export beyond domestic borders. Typical weight for lose credential clothing is a minimum of 25,000 – 30,000 pounds, and in the case of baled clothing, the amount is 40,000 pounds.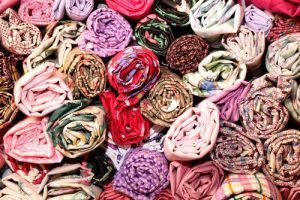 For those interested in the services we provide at Bank & Vogue regarding wholesale credential clothing, they would do well to contact our team for additional details regarding shipping and packaging. There are a number of options for contacting our team to inquire about services. North American clients can call 1-866-613-0719. International clients can call 1-613-747-8465. In both cases, if we are unavailable, we will be sure to check our email and voicemail and get back to prospective clients within a 48-hour window.