As the pressure for retailers to adopt more circular practices increases, 2022 has seen even more companies and governments set goals to become carbon neutral in the years to come. There are many different ways to transition into a circular economy, as demonstrated in the popular phrase 'reduce, reuse, recycle'. Remanufacturing has become one of many ways for businesses to reuse materials to create a new life, and when simply reusing pre-loved garments in their existing form isn't an option, it's a circular practice with a huge amount of opportunity. 
BVH Services is Bank & Vogue's innovative sister company, with a mission of reducing waste and pioneering sustainable solutions for the fashion industry. The brand's latest project sourced materials for the Converse Renew project, upcycling shirts and transforming formal menswear attire for sneaker lovers, giving the classic garment a new life as an iconic Converse Renew Shoe. Beyond Retro sourced striped shirts, that were graded and cut for the collection, reshaping the nostalgia associated with classic office wear to create a unique, summer shoe, with breathable, lightweight upper.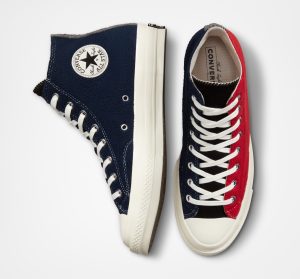 "Our ongoing sourcing partnership with Converse proves that there is a real customer appetite for sustainable options, and using what we already have makes commercial, and environmental sense." commented Steven Bethell, Creative Director of BVH Services & President of Bank & Vogue. "With striped shirts, we can change what a garment means to an audience, and we're excited to continue finding sustainable solutions at scale for the Renew project."
"Our sourcing partnership with Beyond Retro & BVH Services has evolved into a vital part of our Renew project. The latest Converse Renew CT70 Upcycled Fleece is a solid example of innovation and creativity in the sneaker space, delivering an iconic, unique line for our customer with a positive impact on the environment. We believe it's vital to offer more sustainable solutions to our customers at scale, and look forward to even more potential in the upcycling of secondhand with the Beyond Retro and BVH Services in the future." 
Bank & Vogue is proud to announce the 6th collaboration with Converse, the Striped CT70, dropping this April. Demonstrating the value of "used" in new manufacturing, this is another example of the circular and sustainable material sourcing possibilities that the retail industry can tap into. The products we collect through our charities and private collectors helps us create more solutions for a circular economy, and develop groundbreaking sustainable collections. These collections will encourage customers across the world to shop more consciously. We believe the future of fashion lies in our past textiles, and by 
reimagining the possibilities of 'new' manufacture, we can create profitable, scalable solutions for the crisis of stuff, and make a positive impact on our planet.