Creative Ideas To Expand Your Thrift donation
We all know that donation volumes and frequency will drop with colder weather and holiday consumerism. Resourcefulness is key to finding ways to expand your donation base. Here are a few ideas:
Hold holiday or post-holiday clothing drives at your store or at your charity offices.
Contact other small thrift stores or consignment shops and offer to pick up their salvage if they are currently disposing it.
Work with furniture, shoe & clothing stores to collect their customer's used items when they hold sales.
Contact local organizations such as banks, restaurants, VFWs and ask if you can place a collection bin at their location even for just a short length of time.
Offer donors a store discount coupon for each donated bag/box.
Creativity often makes donating convenient and satisfying for your community supporters!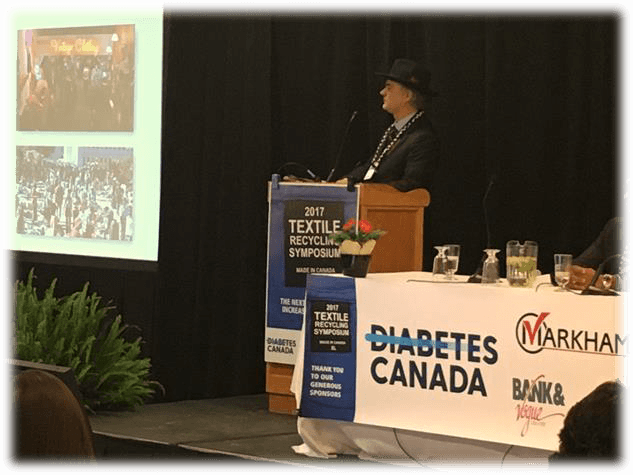 2017 Textile Recycling Symposium: Municipalities at the Forefront
A growing number of Canadian
municipalities made it clear that they will be taking an active role in textile recycling in the very near future, ultimately resulting in a full ban on clothing disposal in 5-6 years' time. Part of the plan to regulate textile recycling is to license contracted clothing collectors. These licenses will be based on resident preferences, municipalities will prefer to partner with charities that will benefit from the collections. In addition, municipalities hope to manage how and where collection bins are placed. With some cities already collecting clothing in different provinces and many more following in these footsteps, a major game changer for our industry is forthcoming.
Elections in Chile, Positive for Second Hand Goods
Chileans will choose their new President as they are called to vote in presidential elections on Nov 19th. Sebastian Piñera, known as a pro-business candidate, leads in the polls. Consumers' confidence in a prompt Chilean economic recovery is increasing, translating into more orders for used housewares, toys and clothing.
Final Countdown for African Ban to Used Clothing
With Kenya, the biggest importer of American used clothing in the East African Community (EAC) ejecting from the used clothing ban, there are only three main countries still supporting the prohibition: Tanzania, Uganda and Rwanda.
Final decision for the negotiations between the USA and these three countries will be made before the end of the year.