Tools of the Trade for Thrift Stores
In order to maximize salvage revenue, a thrift store needs to have the best equipment for packaging and storing salvage product for a full 53' trailer or 40' HC container load.
The following is a list of the required tools that can't be missed in any warehouse:
Baling machine (vertical preferred) to build 1,000 lb bales.
Loading dock (either in building or portable).
Dock plate (to move product from warehouse floor to the trailer bed).
Forklift (gas with side paddles is preferred due to lower maintenance and reduced labor cost).
Pallet Jacks (at least two).
Industrial Floor Scale.
Gaylords and Pallets. Capsacks are becoming the preferred packaging for many categories.
Capsack frame.
Racking (for storing two to three levels high to save floor space).
Also, there is a minimum floor space required for the warehouse:
[ezcol_1third]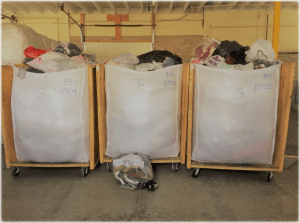 [/ezcol_1third] [ezcol_2third_end]
A full load of mixed rag in big bales, stacked three high takes up 450 sq. feet.
A full load of products in gaylords (48 ea), stacked two high takes up 450 sq. feet.
The production space around the baling machine requires another 300 sq. feet at least.
[/ezcol_2third_end]
Should you have questions concerning equipment needs, ask an experienced consultant who can advise you every step of the way toward achieving higher revenue and reduced cost.
Be Eco-Friendly; Be Part of the Solution this Christmas
As we head into Christmas, the festive season brings about some of the largest spending every year, with consumers looking to fill their loved ones stockings with treats that are often unwanted once the new year rolls in. With conscious consumerism on the rise, customers are now questioning their shopping choices more than ever. In Halloween, another holiday famed for its lack of environmentally friendly options, the US is estimated to have spent $3.1 billion on Halloween costumes worn for one night only. With shocking stats like these spread across the press encouraging customers to look for sustainable alternatives, second hand and ethical options are starting to make more impact on the high street, leading the way for more environmentally friendly options to take centre stage this Christmas.