After-Hours Thrift Donation Theft
Theft of donations that are left at your store after hours has become a real issue regarding lost revenue. In order to combat the losses, thrift stores must find ways to counteract this trend, like for example:
Ask donors through signage to leave donations only during regular attended hours.

Provide a donation bin in the back and front of your store.

Use cameras placed high on the wall surrounding the areas where thefts occur. In addition, a lighted area is less likely to be visited by would-be thieves.

Implement an audio-video system by the store's back door. When someone pulls up and exits their car, the audio kicks in with a voice message about how donations should only be left during open hours, as if the speaker is live.

A really innovative idea is to ask your police department to train their police dogs in your store during closed hours and in return they will swing by your store on a regular basis all night long!
The other issue you can solve is reducing your additional trash cost due to donors leaving non-acceptable items after-hours. This usually includes mattresses, appliances, and televisions. If the area is well lit and cameras are in place (with signs stating their presence), you can reduce the "dumping" of these items.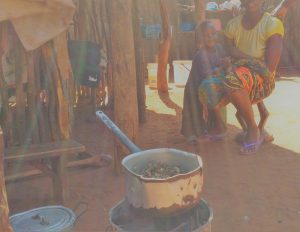 The Impact of Salvage Recycling
Do you ever wonder where all those bales of clothing, shoes, purses, and other categories go when they leave your warehouse dock? If they are in maritime containers, for sure they are going to different countries around the globe where there is a great need for good used clothing. Although these countries might have some textile manufacturing,the cost of new clothing can be far more than the average family can pay. Therefore, it is gratifying to know that those families have an alternative. Besides, many jobs are created in order to move the clothing from the ports to the interior villages.
In addition to clothing – shoes, purses, toys and kitchenware metal are hot commodities. Your salvage can bring real happiness to families who have so little in the way of material goods.
Rag News First Anniversary!
The first year went by so fast! Thank you, our loyal reader for relying on us to keep you informed about used goods recycling and sustainability. To celebrate our first anniversary, we will give away a unique bag –made out of recycled salvage denim -to the first ten (10) people reaching us. To claim your bag, please email us to info@bankvogue.com, including the code "One Year" in the subject.