In the United States, experts estimate that the annual average of waste per US citizen amounts to nearly 70 pounds of clothing and textiles. The EPA has drawn together statistics that indicate that the nearly 13.1 million tons of municipal waste collected each year occupies nearly 5% of all landfill space. Experts agree that one of the ways that citizens and consumers can responsibly address what Bank & Vogue founder has called the "Crisis of Stuff" is through the process of textile recycling. The EPA found that even before the surge in popularity of the mixed rags and credential clothing market, nearly 3.8 billion pounds of post-consumer textile waste (PCTW) was recovered each year. This "crisis of stuff" is particularly disconcerting because landfills are very costly spaces to maintain, and perhaps more obviously, dumping excess donations has a detrimental effect on the environment.
One of the key strategies to correct this "crisis of stuff" entails mobilizing items across the 'mixed rags' market. These materials play an important role in achieving sustainability in the textile industry and this market responsibly works to reduce waste and re-direct waste from landfill. Old items become 'new' for alternative owners. Old items become 'renewed' and re-directed in their purpose. While the benefit might seem obvious for the environment, consumers might ask how this process benefits them. On the consumer end, involvement in the mixed rags market results in a tremendous amount of savings in terms of monetary resources — these items often come at a fraction of the cost that a new item in store or with the click of a computer button might come.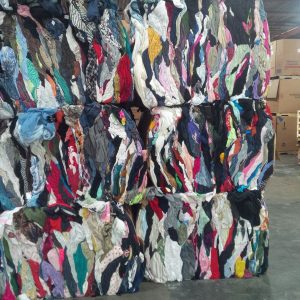 For those new to the mixed rags market, or what some call 'institutional clothing,' mixed rag materials are typically items that were not sold in a resale, or materials that are not suitable for resale. While these materials tend to be designated as imperfect, or they may have stains and rips, are worn, or have jammed zippers or missing buttons, Mixed Rags increase in value as a result of their many consumer benefits and pro-environmental strategies. Not only are these materials re-directing away from landfills, but they are also repurposed for a variety of other industries that does not simply include vintage and thrift store clothing markets. Perhaps surprisingly, mixed rags can also be repurposed as wiping rags for industrial markets such as the automotive, home improvement and manufacturing industries. And there are even other instances when mixed rags are shredded into fiber for building and decorative materials such as couches and chairs, blankets, tablets, carpet padding, and even home insulation.
At Bank & Vogue we are proud to work with large and small thrift store retailers, not-for-profit community based collectors, and even private collectors and consolidators, to responsibly sort and sell bales of clothing for a burgeoning mixed rag market audience. Aside from providing our clientele with mixed rags, Bank & Vogue are also incredibly well known for our expertise and attention to packaging detail for mixed rag items. We provide clientele with export loads of loose rather than baled mixed rags — this packaging is generally a part of special orders that their sellers produce. Our team prioritizes providing their clientele with top notch mixed rags products all the while doing their part to address the environmental challenges of our day.