While thrifting used to be a less than desirable activity, building your clothing collection from used items is now considerably popular for many millennials. Aside from saving consumers a significant amount of money, studies show that it also enables clothing aficionados to keep up with constantly changing trends (by, in part, harkening back to trends of the fashionable past), and diverting items from landfills (while also cutting back waste and reducing landfill overflow by giving old clothes new owners). This is a particularly important given recent research from the U.S Environmental Protection Agency that estimates that Americans dispose nearly 10.5 million tons of textiles annually (which translates to nearly 70 pounds of clothing and textiles per US citizen). This is in part due to the fact that consumers have increasingly bought more as a result of the rise of "fast fashion" which is both cheaper (to make and buy) but also a lower quality grade.
It is also the case that due to the rise of fast fashion, consumers are also donating clothes in much larger amounts than they ever have in the past. Statistics indicate that in the case of the United States, Americans, on average, donate nearly 5 billion pounds of clothing and other miscellaneous materials. And as the donations of used items increase exponentially, thrift stores and vintage shops need to have places to release excess donations that do not sell.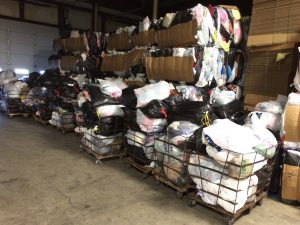 The solution to both dealing responsibly with landfill waste and having a place to send excess donations that do not sell is engaging textile recycling – particularly the 'mixed rags' market. This market includes a wide range of items: clothing, shoes, and even household textiles such as linens and towels. These items entail a category of clothing that vintage stores, for example, are no longer able to sell. This might be because the item was deemed imperfect (it may have stains, rips, broken or jammed zippers or missing buttons or clips), was not sold in a resale, was not suitable for resale, it was the result of a store return, and many other scenarios. Before textile recycling organizations take over the items, they have already been first donated to a thrift store or to charity spaces, retailers have attempted to sell the items, and they have then been removed from circulation and re-oriented to a warehouse for other buyers to make use of. Once these mixed rags arrive at these designated warehouses, they are then sorted, cleaned compressed into bales, and stored until they can be sold.
In terms of benefit, re-sellers have found a variety of usages for mixed rag materials. While it is true that nearly 45% of these materials are sold as secondhand clothing, these items are also remade into other useful products. These include: materials for the automotive, home improvement and manufacturing industries; fibers to stuff couches, chairs, carpet padding, and home insulation with; and even source material to make various technology items with (for example, items like tablet and phone cases).
At Bank & Vogue, we recognize the importance of the mixed rags market in order to ethically address our present day environmental crisis and to also achieve sustainability in the textile industry. It is our intent to play an active and responsible role in this project in order that we can provide consumers with items they need while also doing our part to save resources and protect the environment. Contact us today to find out more.