Bank & Vogue has teamed up with Beyond Retro to raise money for Save the Children UK, the world's leading independent organisation for children. They work in over 120 countries, saving children's lives, fighting for their rights and, helping children fulfill their potential. In 2013 Save The Children reached over 143 million children through their work, including over 52 million children directly.
With your help we can raise up to $20,000 with Beyond Retro's
Christmas Sweater Campaign!
Beyond Retro's goal is to sell 10,000 Christmas sweaters this Holiday season with £1 of each sweater sold between September 1st & December 31st will be donated to Save the Children. Where do you come in?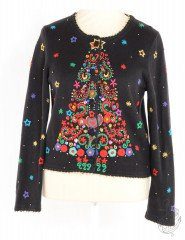 Well…we need more sweaters!
Without ugly Christmas sweaters to sell on beyondretro.com and in Beyond Retro stores in the UK, we can't share the proceeds.
We are looking for sweaters in areas surrounding Houston, Toronto and, LA. But we are interested in large quantities anywhere in North America.
What you can do to help:
Gather up all the ugly Christmas and holiday sweaters you can find.
Let us know you are collecting them and when you have approximately 5000 lbs.
We will purchase them from you and send them to Beyond Retro.
For more information or to set up a pick up contact Dalene
Email: darlene.mclennon@bankvogue.com
Phone: (613)747.8465 x 105