In recent years, media outlets have reported that clothing has an enormous and even toxic environmental footprint. This is particularly true as consumers unnecessarily send their items to landfill rather than finding new ways to recycle materials they may no longer deem necessary. For example, statistically we know that the average shirt in the US is only worn 4 times and then it is discarded. Bank & Vogue's co-founder Steven Bethell has since identified this phenomena as the 'Crisis of Stuff' – where buyers do not always consider that clothing is 100% recyclable and instead discard it in landfills in massive numbers. Not only does this process generate important questions and concerns about how we might achieve environmental sustainability, but the process demands that we find more responsible ways of handling what so many North Americans deem as having "way too much stuff" in their closets. 
Part of the way in which the Crisis of Stuff is addressed in the vintage and retro market, is to create a viable supply through 'mixed rags' or 'institutional clothing.' Here, we are referring to a category of clothing that is considered 'used' that either was not sold in resale, or was not suitable for resale. These items were either store returns, apparels and household rummages from thrift store locations or discount apparel stores. The reasons for this could be because the materials are imperfect — they may have stains, rips, broken zippers or missing buttons. Typically, mixed rags are first donated to a thrift store or charity, and if they are not sold, they are then removed from the storefront and sent to a warehouse. At Bank & Vogue we know that these particular materials play an important role in achieving sustainability in the textile industry. The reason for this is because we are able to re-use this institutional grade of used clothing and prevent its housing in landfills across North America. As a result, these items might be: re-directed for usage in a variety of industries, sold as secondhand materials to new consumers, re-directed for usage in industrial markets, or shredded into fiber for alternative or differentiated industrial markets.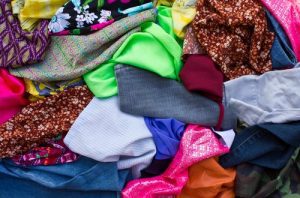 In a recent interview with The Ethicologist, Bethell said that we could continue to envision this crisis as a problem – though at Bank & Vogue they prefer to consider the urgency of the "crisis of stuff" phenomena as an opportunity to create innovative and relevant business solutions (that are also ethical) within the fashion industry. The company, which was founded approximately twenty years ago, began by asking themselves two questions: First, what to do with all the clothes that folks are discarding? And second, how could they, and where could they, find
homes where these discarded materials could be actively re-worn? Ultimately, Bank & Vogue wanted to find a way to address consumer needs and desires, bring about a global consciousness regarding the challenges of unethical fashion, and responsibly address the crisis of stuff. While many tend to focus on the cost benefits of re-making used materials, Bank & Vogue has instead been at the forefront of also drawing attention to the ways that the process of re-making old items (and giving them new life in the hands of a new owner) can and does help save and re-direct items away from landfills.
One of the ways that Bank & Vogue has addressed the Crisis of Stuff is through its engagement in the 'mixed rags' market. At Bank & Vogue, we move approximately 40-60 containers of clothing – 4 million garments – a week across from various locations across American and Canadian markets. In doing so, we are considered both a competitive and reliable seller that is able to help charities and private collectors divert these materials from landfills. This business model entails that we work with over 270 charities across North America, which are given their own donations, and materials that Bank & Vogue intends to keep in their most useable form. Aside from the obvious ways mixed rags are packaged, at Bank & Vogue we are also able to provide our clientele with export loads of loose rather than baled mixed rags as part of special orders that our sellers produce. Seventy-five percent of these donations that the charities we work with receive typically do not sell in the domestic thrift market. As a result, Bank & Vogue pays these charities on a per pound basis for their items. We then find homes for those materials – for example, we might sell these recovered items to a chain of thrift stores in Costa Rica or a sorting facility in Dubai that then turn these items into new materials for a new home and set of owners.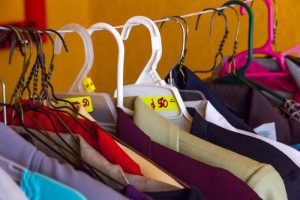 One of our more recent victory stories was as a result of our work with Urban Outfitters. This past Christmas, Bank & vogue was able to sell the company mini printed velvet backpacks that were made out of old velvet dresses. One of the reasons this product was so successful was because velvet, which is both on trend and relevant, allows Bank & Vogue to make on-trend items, which are up-cycled and remade, for new audiences who can, as a result, participate in ethical consumerism.  Another of our successful strategies to tackle the problem of textile waste has been by creating a global online presence with Beyond Retro — our leading European vintage and retro clothing retailer. At Beyond Retro, we scour fashion runways, global street style, edgy editorials and our own team and customers to determine what's next in fashion. This brand is responsible for creating collections out of "raghouses" — which entails going through mountains of secondhand clothes to find the vintage diamonds are on trend with in-colours and styles.
Bank & Vogue's long-term goal, in terms of making an ethical impact, is to recycle at least 10 billion garments. By finding homes for over 4 million garments a week, Bank & Vogue is definitely moving towards our goal. And with close to 300 employees world wide, our growth curve indicates that there are even greater opportunities moving forward.