When baling, storing, and shipping mixed rags and credential clothing, donated shoes can be a challenge.
You can't process shoes with fabric clothing, as balers will utterly compromise the integrity of even canvas shoes, let alone high-heels. Left without any apparent option, many charity and for-profit clothing resellers will simply throw them away.
But with the right knowledge, it's very possible to capture significant cash-flow from donated shoes, just as you would any other item of clothing with Bank & Vogue.
Here's how:
Get The Right Equipment
Earlier this week we spoke about a few of the measures that clothing resellers can take to optimize the cash-flow received from partnership with Bank & Vogue. One that we didn't list was investing in gaylords and capsacks.
Gaylords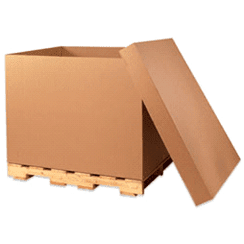 A Gaylord is a large corrugated cardboard box with removable lid. Mounted on a pallet and specifically designed for shipping loose items, Gaylord's perfectly suit the needs of storing and shipping donated shoes.
Generally used to ship bulky fruits and vegetables like melons, these boxes are strong and more than capable of meeting the needs of small-to-medium sized Bank & Vogue partners.
Capsack
Capsacks are large (4x4x4), flexible, sealable sacks. A perfect solution for the shoe-shipping needs of our partners, Capsacks are small and conveniently stored when not in use, but capable of easily containing large quantities of shoes for shipping.
Bank & Vogue can supply Capsacks to any of our selelrs who require them. To order them for your organization, don't hesitate to get in touch!
Keep Shoes Together
Buyers of used shoes only purchase them in pairs. Sorting through tonnes and tonnes of shoes to find pairs is a massive undertaking, so it's vital to include shoe-pairing into regular quality-control procedures for all your credential clothing/mixed rags shipping.
Much of the time, ensuring shoes stay paired is as easy as tying the laces of two shoes together. Some shoes, such as flats however, present challenges.
In cases like this when laces or straps are not available, simply using elastic bands, twine, or tape to keep shoes together is often enough!
Note: Packing tape can damage shoes when removed, so always elect for tape with gentler adhesive, such as masking tape.
Ship In Full Or Partial Loads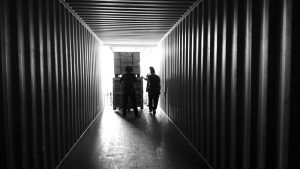 Bank & Vogue accepts paired shoes in full loads of approximately 30,000 pounds, or as a part of a mixed-load of other accepted products. Depending on your needs, you are able to enjoy the convenient storage that Gaylords or Capsacks provide, and accumulate paired shoes until a full-load is possible; or you can include them as a part of a mixed shipment, along with the rest of your mixed rags, credential clothing, bric-brac, etc.
To learn more about capturing value from unsold donated shoes, don't hesitate to get in touch with Bank & Vogue.