The Crisis of Stuff.
We are at an intersection of hyper consumption and exorbitant waste. In this current culture of consumption with a disposable mentality, we're facing an ever-growing crisis: What do we do with all this stuff?
If you're a retailer, charity or thrift store, you know exactly what we're talking about. Used clothing alone is taking up landfill space at an alarming rate. Add to that all the furniture, toys, housewares and other items that people no longer use or want. Where does it all go?
Some of it gets resold and finds a good home. If you're able to do that, bravo, everyone wins.
The majority of stuff, however, either doesn't make it to the thrift store floor (not sellable) or can't move off the shelves. Then what?
At Bank & Vogue, we're highly conscious of this crisis, and we've made it our mission to ensure that less and less stuff (and eventually none at all!) goes into landfill.
As a leader in the wholesale used good industry, Bank & Vogue is committed to doing our part to mitigate this Crisis of Stuff. We encourage our partners and suppliers to be part of the solution as well.
What's in it for you?
By being onboard the recycling bandwagon, you reap the benefits by:
Not having to pay to cart goods to landfill
Making money on unsold / unsellable items
Knowing you're doing your part to make the world a better place
Being able to showcase your efforts to customers (leading to more sales and greater awareness)
The Crisis Builds
Back in the day, we were far less of a throw-away society, instead being all about preserving and persevering. Items stayed in families for generations, and clothing was worn for years or even decades.
Fast-forward to 2017, and we've become quite the opposite of that, having built up a tolerance for disposing of items quickly after limited periods of use. The clothing lifecycle has gotten shorter and shorter, with seasons and styles quickening through mass-information and the ever-increasing desire to have the latest and greatest. The same goes for housewares, toys, furniture, baby items and more.
The problem arises – and amasses – when we say, "out with the old and in with the new." Out… where, exactly?
If consumers throw used clothing into the trash, it's guaranteed to go to landfill. This should never happen.
Donating clothing is a better option, of course. Only 50% of what is donated even makes it to the floor, however, and of that, only half is eventually purchased. That means 75% of all donations are destined either for landfill or other purposes.
Is landfill the easiest solution?
It might seem that way. Less "hassle," anyway, and a more immediate solution. But at a cost. Let's address the costs associated with that.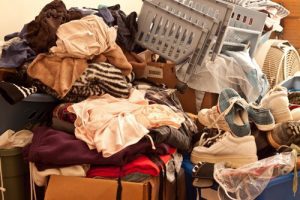 First, the costs to society.
8 billion pounds of unnecessary waste goes into landfill annually
2% of the waste that's in landfills comprises clothing and household textiles
That's largely because the average American throws away 70-80+ pounds of clothing every year
And in the UK, the average woman has £285 worth of clothing in her closet that she will never wear – this translates to £30 BILLION of unworn clothes in the UK right now!
Back in the US, landfill is added to each year at a volume equivalent of two million elephants
Textiles aren't biodegradable, so they'll sit in landfill up to 200 years
Landfill takes up space, and has a highly negative impact on the environment. That's bad in a lot of ways, isn't it?
Then there are the costs of producing clothing (as opposed to recycling it):
New clothing costs money to produce, transport and sell
The average person would need three years to drink all the water that's needed to produce one cotton T-shirt
Transportation has carbon footprint and other environmental impacts
Next up are your immediate costs. Chances are, you're paying a tidy sum to have that stuff carted off. How much, exactly? Would you like to cut that amount down to, say, zero? Maybe even make some money in the process?
Read on.
A Chance to Be Part of the Solution
The good news is, you can be part of the solution.
The more used goods you can sell, of course, the better off all stakeholders will be. You'll make more money on sales, and the clothing and other used merchandise finds a second home with minimal environmental impact and no landfill. Let's assume, however, that you're doing everything right in terms of marketing and merchandising. You're still going to have items that don't, won't or can't sell.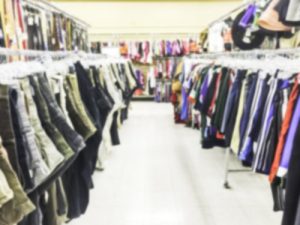 Retailers get store returns. It's a cost of doing business. Some of those items can go to outlets or stores like the TJX chain (TJ Maxx, Marshall's, Winners, et al). What happens to the rest, or to the items that don't even sell further down the line?  For thrift stores and other retailers of second-hand merchandise, the majority of items just aren't sellable. Some items, you'll know right away won't sell and can divert to recycling. Others, you send to the shelves, but customers aren't interested.
Putting all that into one basket, we're talking about clothing and other items that don't sell – in North America.
But there's a large market worldwide for used textiles and other household goods. In South America, Asia, Africa and the Middle East, these items are in demand. There's no need to send items to landfill.
At Bank & Vogue, our specialty is connecting demand and supply for used goods.
We've been doing this for 25 years, and have developed relationships and expertise with buyers and suppliers across the globe. That means we can help you maximize your revenue by linking sellers of used goods to customers who want to purchase these goods.
We are also owners and operators of a successful chain of vintage and used clothing stores in Europe: Beyond Retro. In addition, members of our team have started, managed and operated thrift stores across the United States. Talking to or engaging members of our team means that you are tapping into these experiences.
What You Can Do
By selling your used clothing and other goods, you are:
Reducing the amount that goes into landfill
Saving on costs to send to landfill
Earning cash for those used goods
Able to promote your part in the Recycling process, giving you an edge with both shoppers and with those who donate their used goods
What are we looking for? It's more than just clothing. The following are a starter list of used goods that buyers worldwide are looking for:
Credential clothing
Mixed rags
Shoes
Purses & belts
Toys
Sporting and camping equipment
Housewares
Furniture
Books
Seasonal Products
Kitchenware & metalware
Linens
Bric-a-brac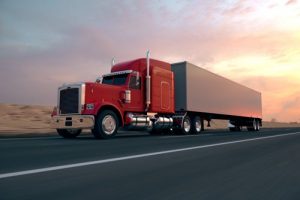 Bank & Vogue will arrange to have the used goods picked up from your location at no cost to you. You can read this page for more information on what buyers are looking for, and how to maximize revenue on your loads.
Contact Bank & Vogue today, and get started on the process of sending your used goods onto the journey of recycling, and bringing in revenue and value in the process.