How much do North Americans waste?
According to the U.S. Environmental Protection Agency (EPA), the annual average of waste per US citizen amounts to nearly 70 pounds of clothing and textiles. These numbers jump tremendously when considering that worldwide, over 80 billion garments are produced annually. In the US, the nation's municipal waste stream occupies nearly 5% of all landfill space, totalling 13.1 million tons. Despite this national waste problem, the EPA reminds us that recycling processes also recover approximately 3.8 billion pounds of post-consumer textile waste (PCTW) each year. However, this number of textile recycling industry recycles only amounts to approximately 15% of all PCTW. Where does the rest of that material go? According to the EPA numbers, this leaves nearly 85% of PCTW in our landfills.
Is the Crisis Only About Dumping Waste?
While some might argue that the crisis facing waste recovery is only the issue of dumping, those preoccupied with solving the "crisis of stuff" are also deeply concerned with environmental issues. Researchers remind us that once materials are in landfills, natural fibers can take hundreds of years to decompose, while synthetic textiles are designed not to decompose. Additionally, these materials may also release methane and CO2 gas into the atmosphere – this can be both harmful to the air as well as toxic to the soil and groundwater.
In order to rectify this crisis, textile recycling advocates argue that the recycling process allows for a number of environmental benefits.
The Recycling process helps decrease landfill space requirements
Recycling helps limit the amount of materials dumped that either do not decompose or emit greenhouse gasses and pollution into the atmosphere
The Recycling process helps reduce the consumption of energy and water to create additional materials
Recycling creates a lessened demand for dyes and avoids the use of virgin fibers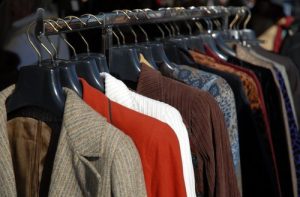 How Bank & Vogue Is Helping Solve the Crisis
Over the years, Bank and Vogue has assessed the crisis and has put together an innovative and relevant set of solutions for what our founder Steven Bethell has labelled the "Crisis of Stuff."
In the early 1990's, Steven and Helene Carter-Bethell started their recycling initiative in the basement of their home to help provide a service to the Salvation Army. The Bethells were following a growing trend. Interest in recycling used materials that began in the mid-1940s when U.S. charities and the post-consumer textile recycling industry began repurposing and recycling billions of pounds of clothing, household textiles, shoes, and accessories. Twenty years later, their family-based company combines knowledge and experience in wholesale, retail, design and manufacturing and provides clients with creative ideas and solutions to deal with the overwhelming amount of "stuff" that we all consume.
At Bank & Vogue we are highly committed to mitigating the "Crisis of Stuff," and to ensuring that less materials find their way into a landfill. As part of our efforts, we continue to find innovative ways for charities to raise revenue so that they can fund important community programs. We work with our customers to find high-quality used goods and store returns for domestic and international markets. We also partner with private collectors to help minimize the impact of used clothing on the environment. In terms of retail, we also find hand-pick used items from around the world for our retail and online stores. To date, we have diverted approximately 600,000 garments from landfill and moved nearly over 90 million pounds of used goods around the world.
Can we solve the crisis of stuff? We firmly believe the answer is "yes." We, collectively, can and will find solutions to help build a more sustainable future. Together.