Thrifty shoppers are always looking for great bargains and the best deals. It might then come as no surprise that the best location to find those two things are in your local thrift stores and consignment shops! Thrift stores have become a viable alternative to big box stores and malls where the items may be new, but they are also costly. What's the big attraction of thrift stores?
Aside from cost saving incentives, shopping thrifty does not necessarily mean that the materials you find are of lesser quality or poor value. In fact, most thrift shoppers agree that the benefit of thrift shopping is that these are fine stores where you can sift through vintage materials and come across great finds at a fraction of the cost. Not only are the costs attractive, but the materials are as well — especially if you have the spare time to give a conscious effort to pouring through the racks of materials.
While these places offer opportunities to discover for those fashionistas working hard to create their personal aesthetic on a small budget, thrift stores are also incredibly important to members of the community who may need inexpensive clothing or household items and cannot afford to spend outside of that budget, or local citizens who are unemployed in need of items that do not put a strain on their finances.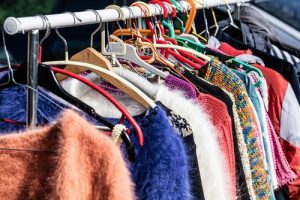 Shedding the Stigma, Becoming Chic
Over the past several years, thrift shopping has shed a certain stigma. Where thrift shopping for some people might have carried a hint of embarrassment, it is now the case that many shoppers feel proud to find a bargain in these spaces. Many shoppers claim that there has actually been a shift in the pop-culture representations of thrift shopping towards an image that is quite positive. Some attribute this shift to:
the rise of blogs like Refashionista (which is dedicated to being fashionable on a budget);
television series intent on promoting bargains and saving;
and music like Macklemore's "Thrift Shop" that designates the image of 'cool' to thrift shopping.
Sarah Ann Craven argues that one of the reasons this is the case is because reality television shows that focus on subjects such as budget-shopping and extreme couponing demonstrate that there is an important value and purpose in consignment shopping. Craven reminds her readers that these shifts remind shoppers who endeavour to get the most for their money, that there is a huge reason to be proud of yourself and your approach to shopping.
The Thrill of a Bargain
There is also a great personal thrill that comes with thrift shopping. Namely, the excitement that shoppers gain when they are able to find name-brand items for a steal, or items that are rare, one-of-a-kind and vintage at a fraction of a cost. This sort of shopping market is becoming particularly attractive to a broad subset of shoppers, especially to young college students who have always tended to visit thrift stores for quick and inexpensive buys, though they are also finding that they can also locate items that meet their social standards as well. Robbie Carruthers, the owner of a Canadian vintage clothing store, claims that thrift shop aficionados are particularly into the fashion of the 1980s and 1990s. These items include everything from sports jerseys, to truck stop hats, and old Nike running shoes. Like many of his shoppers, Carruthers began collecting items in local stores and online — eventually acquiring nearly 500 pieces that he could later share with his clientele at his vintage shop. ""They [his clients] want to go get that style, but there's no place to go. The fact that they can come in here and actually get the stuff that they're looking for, they're super excited about it."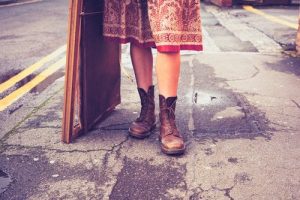 Aside from the personal benefits, thrift shopping can also be a favoured alternative for those who are committed and interested in doing their part to address today's environmental challenges. According to Allison Engel, the concept of owning clothes as a phenomenon is changing. The author of "ThriftStyle: The Ultimate Bargain Shopper's Guide to Smart Fashion," claims that shoppers are especially concerned and worried about the fact that over 10 million tons of textile waste goes into U.S. landfills each year. This statistic has, in many ways, driven many shoppers to thrift shop in places that are dedicated to providing well-made quality clothes for inexpensive prices while also being green.
Bank & Vogue's Role in Thrift Shopping
This is where Bank & Vogue comes in — as we play a key role in getting these highly sought after items to thrift store clients. And in doing so, we help thrift stores grow their business while also working with the used goods industry to develop growth strategies and deliver quality product.
As a company dedicated to finding innovative and relevant solutions for the crisis of stuff, and the environmental challenges posed by textile waste, we have done so selling North American product across five continents. At Bank & Vogue we are committed to looking for and sourcing products that work to make a seller in the business of selling used items much more profitable and capable of meeting the needs of your end-customers. Part of this strategy requires that we closely with our clients to ensure that each load meets a thrift store's needs (as well as the needs of its clients), and that we oversee that any number of products are priced competitively to reflect demand and market conditions while also ensuring the maximum weights on trailers and containers are achieved.
In the particular case of those who operate a retail or thrift store, or those businesses that identify as part of the wholesale to retail market, they will be happy to know that at Bank and Vogue we purchase original donations, store returns and seasonal product from the best producing markets across North America. We have also helped our retail buyers find and test new product categories — all of which results in a providing a broader offering of materials to their customers and increasing revenue for the thrift store itself.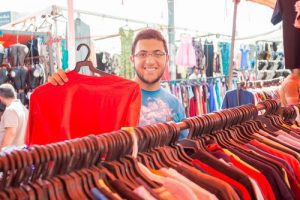 In order to help thrift stores (our customers) help their customers, we make three important commitments. First, we work to provide thrift stores with global market insight so that can share our knowledge on how market shifts are impacting supply, demand and pricing. Second, we work to find and secure the product you are looking for from the regions that you know produce the best quality product for you and your clientele. After all, you know your customers best. Finally, our logistics folks communicate with our clients on a regular and timely basis and in the medium of your choice. We find that in doing so, we are best able to help clients become fully aware of what is happening with the product that they are purchasing. This strategy for success not only helps keep our clients (thrift stores across many regional markets) happy, but it then extends to the many shoppers who frequent thrift and consignment stores across North America in search for the latest fashions and one-of-a-kind finds — all at a fraction of the cost.
If you're a thrift store or consignment store with excess inventory that you're looking to move, contact Bank & Vogue today. We can arrange the sale and pickup of your items, with no hassle or legwork for you.