If you're a business or a vintage aficionado shopper that is looking to build your available product stock or personal closet with higher end vintage items, but you are not too sure what to look out for or what the benefits are of 'buying vintage' versus 'shopping thriftily' are, you may want to start with a bit of research.
Thrift and Vintage – Labels
Learning the difference between items labelled as "thrift" and those considered "vintage" can be a bit of a learning curve. Some might wonder why it is that shoppers opt to purchase vintage when the items might cost as much as couture, but are not new and may have even been used and worn? Maria Bobila reports that as shoppers are increasingly becoming more fashion-and-environmentally conscious and digitally savvy, the traditional vintage store needs to direct its attention to creating a stock that is modern in its approach to sales, green in its mission, and committed to collecting and selling the most coveted collections of pre-owned luxury, designer and earlier era materials.
So what are some great tips to becoming a fully-versed 'vintage clothing shopper'? We've got the best tips to help make that learning curve less steep:
First, you're going to need to know the difference between thrift and vintage items. Experts argue that vintage items are typically set apart because they are special in some sort of way. They may be an item from another time (that has stood time, the elements and various shifts in fashion). They might also be items that are still relevant no matter what decade they are from. Or they might even have a special historical or cultural relevance — think of that rare rock band t-shirt or that classic clutch bag worn by a small segment of the population. These items are not only rare, but itis also the hunt that makes them hot ticket items.
Older = Rarer
Generally speaking, the older the item, the less availability – and therefore the greater the sentimental, fashion and economic value. In terms of age, vintage items are those that experts would consider from an era in the 20th century, that could fit in a contemporary wardrobe, and that wouldn't appear to be costume-like.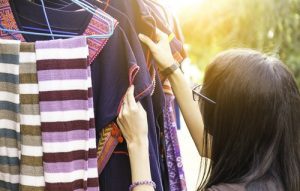 Aside from the age and uniqueness of an item, buying a vintage garment either to accessorize your outfit or to form the core of your outfit also has practical co-benefits. First off, it is typically a rule of thumb that vintage items are made better. Especially when you are considering higher end items. The piece might also have details that add to its value — beading, embroidery, better and more durable fabric, and a piece that is handmade or where the construction highlights deep attention to detail. Experts like Paolo Nieddu suggest that the details are what shoppers should pay attention to in order to ensure that they are getting an absolute treasure. These are the sorts of items where it might make sense to dig deep into your pockets and spend a bit more money even if the item does not fit. Why, you ask? Even a poorly-fitting vintage item adds value to your wardrobe simply because it just might be a collectable. As a result, experts recommend that even if you do find an item that does not fit perfectly, it might be a wise investment to have it properly tailored to your body. With that additional cost of $25 or $30 in alternations, you are sure to adjust the cuffs, shorten the waist, or take in the width — and then show off the new exciting, fashionable, environmentally friendly and coveted piece from your wardrobe!
Bank & Vogue has years of experience in facilitating the sale and purchase of vintage clothing in bulk. We know the finer points of the thrift store business as well. Contact us today to find out what we can do for you.