While textile consumption continues to be at a noted high, consumers are growing all the more interested in alternative textile markets that show an ethical interest in the environment and responsible attitude towards spending. Experts argue that this impulse for "textile ethics" has grown – in part – out of the rise of "fast fashion." While many consumers like the idea of spending less on materials that are of lesser quality and produced in cheaper manufacturing markets, other consumers are troubled by these practices and the levels of waste associated with producing these sorts of textiles in massive numbers.
Statistics indicate that in the United States alone, Americans on average donate nearly 5 billion pounds of clothing, shoes, and miscellaneous materials each calendar year. In terms of waste, these numbers are even greater. According to the U.S. EPA, the annual average of waste per US citizen amounts to nearly 70 pounds of clothing and textiles. The nation's municipal waste stream occupies nearly 5% of all landfill space — in weight, this totals nearly 13.1 million tons. Experts remind consumers that clothing has an enormous, toxic, environmental footprint that grows larger as consumers unnecessarily waste material, or fail to use materials to the fullest of their capacity. Ecosalon reminds readers that clothing should have not only multiple uses but multiple lives through multiple owners and the process of textile recycling. For example, statistically, we know that the average shirt in the US is only worn 4 times and then discarded. Bank & Vogue's co-founder Steven Bethell has since identified this phenomenon of as the 'crisis of stuff' – where buyers do not always consider that clothing is 100% recyclable and resort to discarding all the items they no longer have any use for in the world's landfills.
So, what does the EPA suggest are ethical responses to what Bank & Vogue calls the 'crisis of stuff'? The EPA strongly suggests that consumers recycle and donate their materials, rather than dispose their textiles in landfills and purchase additional materials in excessive amounts. The U.S EPA reports that the interest in recycling materials, particularly vis-a-vis items such as mixed rags, increased seems to be a trend that is on the rise. Evidence of this is the recovery of nearly 3.8 billion pounds of post-consumer textile waste (PCTW) each year.
One of the key solutions is the expansion of the 'mixed rags' or 'institutional clothing' market. This category of clothing – which is considered 'used' and designated as imperfect – includes materials that are not sold in a resale, or were not suitable for resale. They are typically generated as a result of store returns and rummages from the thrift store, vintage shop locations or discount apparel stores where buyers found apparels and household items. Mixed rags are also designated as such because they may have stains, worn material, rips, broken or jammed zippers or missing buttons or clips. These excess textiles are typically first donated to a thrift store or to charity spaces, and if they are not sold to a buyer, they are then removed from the storefront and sent to a warehouse for other buyers to make use of. Item wise, mixed rags vary in terms of product – they can include used shoes, household textiles such as linens and towels, and used clothing for sale in bulk and at deeply discounted wholesale rates to companies that will take on these materials to sell for new buying audiences. And while they may not have been sold to a new client, they were however saved from landfills and from creating additional detrimental effects on the environment. Rather than tossing these materials in landfills and creating additional waste, engaging in the mixed rags market means that consumers practice cost-saving strategies and environmentally safe practices that managed to turn old clothing, linens, and fabrics into new products with a new purpose.
In order for the above-noted items to qualify as mixed rags, they must be packaged in a particularly distinct way. Experts argue that mixed rag items are sorted, compressed into bales of clothing, and then stored until they can be sold in bulk and by weight to clothing wholesalers. In most cases, mixed rags are typically packaged in amounts of 800-1,200 point bags, and either in large bales or kept as loose items. For those mixed rags items that are packaged in bales, it is usually the case that they are comprised of secondhand clothing deemed unsuitable for resale, or items that were marked for resale but failed to sell to a new buyer.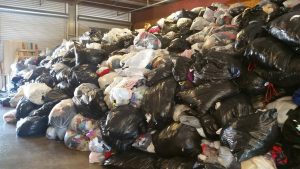 In response to this crisis, Bank & Vogue moved to address consumer needs and desires for fashionable items, while also delivering on textile ethics and the project of global consciousness regarding the challenges of unethical fashion. Put differently – Bank & Vogue took seriously the challenge of re-making old items for new owners in order to save textiles and the planet at the same time. And so,  at Bank & Vogue, we make it our practice to actively address the 'crisis of stuff' by piecing together mixed rags from various locations and mobilizing items across the 'mixed rags' market. By doing so, Bank & Vogue is playing an active and important role in achieving sustainability in the textile industry and protecting the environment in an initiative that saves nearly four billion pounds of used clothing from landfills. In order to do so, Bank & Vogue works in partnership with businesses that range from large and small thrift store retailers to not-for-profit community-based collectors, and even private collectors and consolidators. In order to help our organization remain competitive in the mixed rags market, and a reliable seller of mixed rags materials, we gather materials for our clientele that meet industry standards and we pay deep attention to packaging details in the area of shipping and logistics.
In terms of a long-term goal, Bank & Vogue endeavors to make an ethical impact in the textile market by recycling at least 10 billion garments – they already find a home for in excess of 4 million garments a week. Thanks to a business model that employs nearly 300 employees worldwide, Bank & Vogue is well on its way to achieving this goal.  Contact us today to find out more.